TRUSTED BY THE BEST COMPANIES
Immersive Virtual Reality (VEZ)
If a picture is worth a thousand words, imagine what an interactive experience can do !
360 Virtual Reality
Virtual Reality is currently the number one focus in the real estate world. It provides an immersive experience that allows potential buyers to place themselves within the home or apartment that they're considering. Once there, they can have the ability to tour a property from every angle and make on-the-fly adjustments to their visual selections.
360 Virtual Tour
360 degree live shoot help you provide an immersive viewing experience.
360 Aerial Drone Shoot
Aerial 360 Shoot takes you to the sky and give breath-taking views of your property from high above, to offer your viewers a unique perspective.
Project Presentation and E Brochure
Progressive Web Apps are installable and live on the user's home screen, without the need for an app store. They offer an immersive full screen experience.
Dashboard
Unified and easy-to-use interface to Create, Send and Measure your campaign performance.
Campaign Analytics
Deep insights to check the performance of each campaign you send.
RSS-to-Push
Send automated Web Push Notifications to Desktop or Mobile browsers, every time you post a new blog on your website.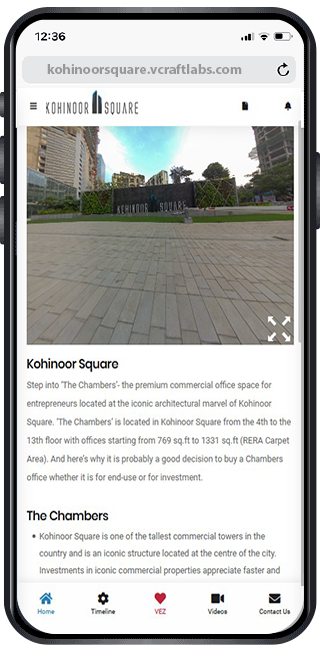 Segments
Split your user base into segments based on a location, OS type, subscription date and browsers.
Triggers
Send notifications based on user action to make them contextual and relatable.
Project Duplication
With this unique feature - duplicate your existing projects, customize them to your requirements-Project Duplication.
Customer Testimonials
" Vcraftlabs actually delivered the results they promised. They gave our customers a truly unique and unforgettable experience. The sales really went up. I'm glad we opted for Virtual tours services for our business."
The best part about Vcraftslab's service is that they provide customers an easy to use, interactive solutions. One need not be tech savvy to experience the goodness. We could cover customers of all age groups to provide them an enhanced experience.
VR is interesting and it gives you an edge. Vcraftlabs really enhanced our products. Their services are worth investing every penny. The team clearly identified our needs and delivered good quality services.
ADDRESS
VCraft Labs Pvt. Ltd.
Level -4, Kapil Towers, Financial District,
Gachibowli, Hyderabad, Telangana 500032